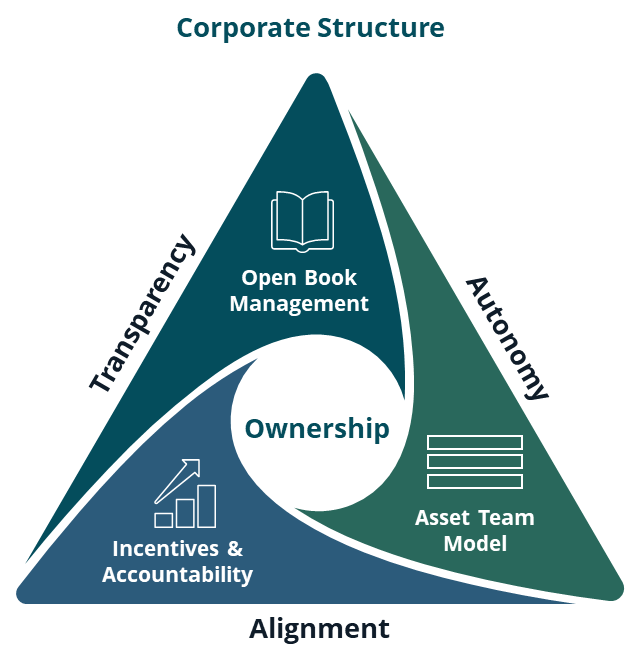 Hilcorp's Governance centers on a culture of transparency, alignment, and autonomy. With an open book management approach, asset team model, and fully aligned accountability and incentives system, Hilcorp promotes employee engagement and ownership.
Two-thirds of Hilcorp employees are field employees—well beyond industry averages.  Every employee has a direct stake in the company's performance and goals. Our model aims to have all 2,800+ Hilcorp employees focused on acting like an owner which fosters strong corporate governance every day.
Accountability and Incentives
ESG Oversight
Hilcorp's ESG oversight committee is composed of the CEO, a cross-functional executive team, and employees with diverse perspectives. The oversight committee, operations, and employees at-large are in a continuous information and execution loop.
Hilcorp's unique asset-based structure empowers teams to establish the goals and priorities that suit the assets under their management. Ownership and alignment with ESG objectives are pushed down to the field level enabling Hilcorp to achieve ESG goals, including tangible emissions reductions. Hilcorp's business model is to acquire mature late-life properties and then optimize those properties. Assets vary in terms of the production type (natural gas or oil), conventional or non-conventional, age of infrastructure, and operating conditions. Every asset requires a unique approach with dedicated professionals who can find the right solutions to optimize production while reducing environmental impact.
Oversight's Use of Open Book Management
Emissions and financial data are broken down and distributed to each asset team. Every member of the asset team has access to and is expected to have a comprehensive understanding of the data. By sharing data with every member of the company, each employee is empowered to identify and execute improvement opportunities.
Meaningful Goal-Setting
During each annual planning cycle, each asset team sets production, investment, costs, value creation, and emissions reduction targets. Everyone is included in this process—both field and office employees. The bottom-up approach to goal setting ensures full ownership, understanding, and alignment of our goals. Teams are assessed on their progress toward reaching goals on a daily, monthly and quarterly basis. Employees are measured on their performance and their compensation is directly tied to reaching the targets.